Pardon me for getting right to the point, but statistically speaking, your front office sucks. It sucks dollars, it sucks opportunities, and it sucks prospective patients away from the practice. Now that I've got your attention (and hopefully not offended you), hear me out. I actually took some time to gather data about just how bad things are in the front-offices of plastic surgery and bariatric surgery practices across the US.
I started with a hypothesis: front office staff in most surgical practices are overworked, disconnected from the sales process, and out-of-the-loop when it comes to Web marketing efforts.
I wanted to test that notion, so I had one of our interns call 300 plastic surgery practices and 200 bariatric surgery practices selected randomly from across the US. Our intern asked just one question, "I'd like to know if [insert Dr. name] has a Web site."
As I expected, the first 10 or so offices we called weren't sure if they had a site or what the address was. A few took the time to look it up and read it back to us. But here's the thing that made me stop and expand the data we gathered: Not one of the first 10 practices we called asked if they could answer questions about the doctor or practice and no one invited us in for a consultation.
I'll concede that our one question did suggest that our inquiry was casual. But come on, at least a few in ten should have attempted to build some kind of rapport.
Here are the highlights:
27% of the sample (which included 500 practicing plastic and bariatric surgeons) had no Web site.
Among practices with Web sites, 60% were not sure initially if they had a site or what the address was. Only a fraction of that group took the time to hunt it down for our caller.
A total of 3 practices in 500 (that's 0.6%, folks) detailed some helpful features we should check out while on their site.
93% of the practices we called hung up immediately after answering our question (note that our caller was instructed to say "Thank You" after the address was discussed and did not say good bye or to hang up until the office ended the call).
Let that last point sink in for a second. Only 7% of the offices we called asked if we had other questions, tried to determine what procedure we were considering, offered information about their surgeon's credentials, or encouraged us to come in for a consultation.
An article authored by practice development consultant Anne Cohen put the results in some context for me. She spoke of how many practices remain focused on serving the needs of patients, rather than cultivating relationships with clients. If a patient calls and asks a question, we answer it and move on. When a client calls, we work to uncover the bigger need behind the question and try to strengthen the relationship. Notice to all plastic and bariatric surgeons: candidates for elective procedures do not think of themselves as patients so (outside of the O.R.) neither should you.
I'm not calling for anyone to abandon the focus on patient care, safety, or outcomes. But you must educate your front office staff about the importance of excellent client care. And you must get rid of the impossible phone systems, long hold times, bad on-hold music, dropped calls, and transfers to voicemail. Your clients want a personal connection, and they don't want to wait.
Before you start taking your front office staff to task, answer these three questions:
Have I made clear to my front office staff that every call is a treasure? Even the price shoppers?
Does my staff training reinforce this idea? Can the front office explain why I am worth a consultation? Do they know how to cultivate a lead?
Does the front office have time to give each call personal attention and immediate priority?
Let your answers guide you toward improving your practice. And if you want something practical to do right away, I've prepared a little activity for your next staff meeting.
Print a copy of the staff meeting worksheet for everyone on staff. Distribute the sheets and give them 3 to 5 minutes to fill in the blanks. Collect the sheets and discuss the results. Don't be surprised if many of your staff members do not know your correct Web address, if they are not familiar with what is on your site, or if they find it difficult to explain how the site will benefit current or prospective clients.
Your goal should be to have a well-trained and poised staff who can recite your Web address from memory and talk intelligently about the benefits of your site, both for current and prospective patients. Constructed conversation starters are a great way to help your staff get the ball rolling. Here are a few examples:
"On our Web site you can learn more about Dr. Smith – her bio is available under the heading…"
"You can learn more about your procedure on our site. Our surgeon has performed…"
"We have dozens of before and after photos on the site, and many more are available in our office. Are you sure you don't just want to schedule your consultation to meet the surgeon and see all of our photos?"
"If you're worried about fitting a procedure into your budget, we offer convenient financing – you can apply right on our siteor we can help you with it when you come in for your consultation."
"Oh, and of course you can get acquainted with our whole staff at the site. I'm Sandy, my picture is second on the page, what was your name?"
By the end of the meeting your entire staff will know you are serious about knowing the site, and they will be able to leverage your site as a tool in cultivating client relationships.
What Works: Google Maps on Your Site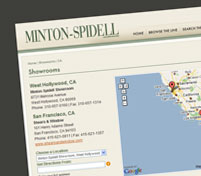 Many of our newer projects, including www.minton-spidell.com, offer the integrated power of Google Maps.
The free tool kit allows us to embed Google maps directly in your site. Benefits include:
Visitors can zoom and pan on the map
Custom map callouts let you feature multiple points on the map with detailed descriptions
Customized driving directions from Google can be delivered right from your site
---