Has your practice started planning for the holiday season? We all know about the increase in consumer spending throughout the holidays, but after two years of impact from the pandemic, this year is more important than ever to take advantage of holiday selling.
In our latest blog, Etna COO Sean Collier walks us through a four-part plan to help prepare for the upcoming season and to give you the tools to do all that you can to finish the year strong.
---
Video Transcription:
The End is Nigh, well the end of the year at least. I'm Sean Collier with Etna Interactive and here to talk to you about holiday planning for your practice. JFK used the phrase, 'A rising tide lifts all boats' to talk about economic benefits to all participants. In our case the tide is the holiday buying and the increase in general consumer spending during the holiday season. Etna wants you to be ready for the increase in consumer buying that happens here.
The holidays sneak up on us. Much like traditional retail, Q4 can be big for your practice. Despite the awareness, Etna has seen countless practices that get so tied up in the day-to-day challenges of their business that they put off properly planning for the holiday selling. Q4 comes quickly and the unprepared practice will become reactive instead of proactive resulting in missed opportunities, lost sales, and lower profits. Don't be that practice. If you haven't begun your holiday planning now, start it.
The year-end is a fantastic opportunity to boost your top line, don't forget that you have to make a plan, so let's get into it. We have a four-part plan to show you today, just four simple parts. The details will come right now.
Step 1:
Christian Slater tried hard to get his message out. Remember that early 90s film, Pump Up The Volume? You want to get the word out about your promotions and services as well. Step one is to figure out the volume of sales, patients, leads, services that you want to have in Q4. Show me the numbers. Not just at a high level of revenue, but down to the product and service level and think in unit quantities, these are really important.
Use historic information to give you guidance on specific products and services. Look at volumes from past years, probably want to look back all the way to 2019, and 2020 was a little bit different. Are there any new products or services that you added this year? Is there anything different that you came up with during the COVID period? Are there any older ones that maybe need to go away? Put it down in a spreadsheet, again at the product and service level.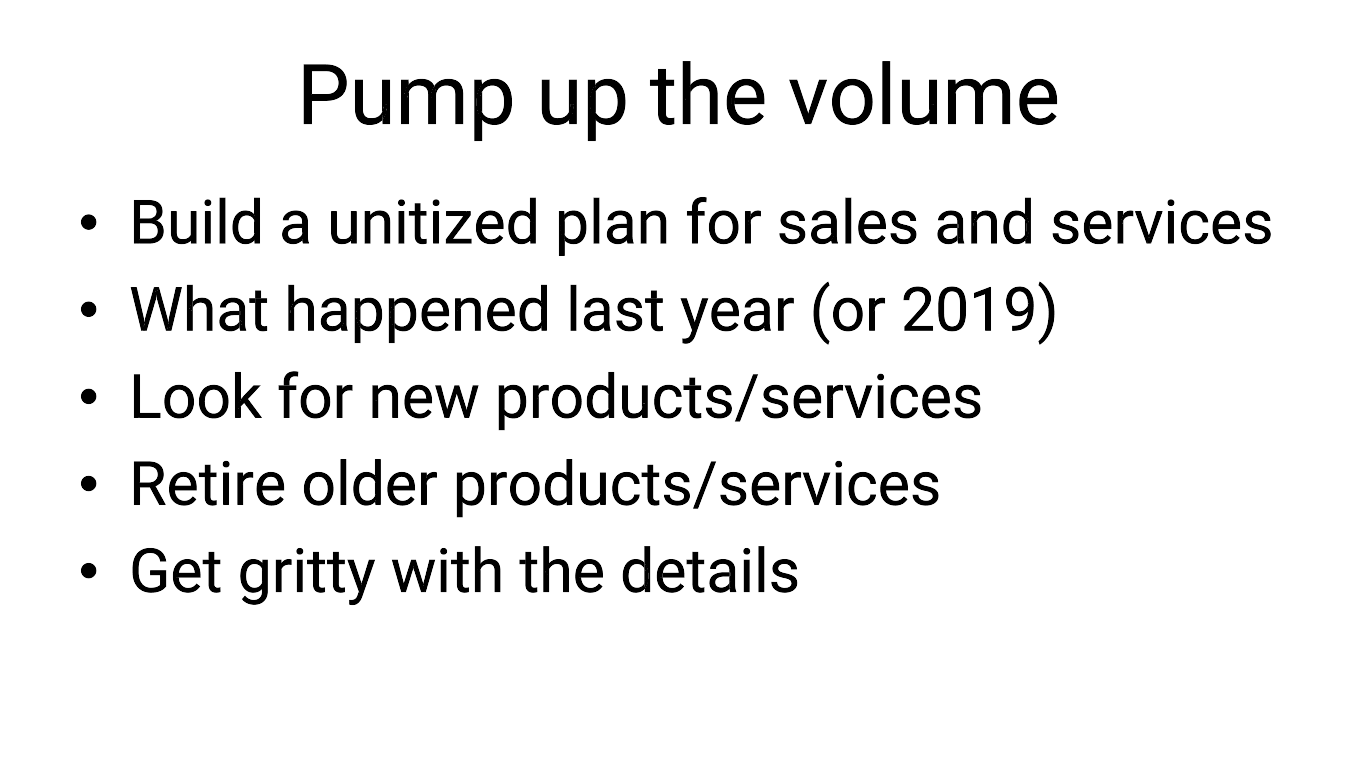 Step 2:
Now we're on to promotions. This is where your fun, creative mind gets to really stretch. There are five key types of promotions to talk about here, I'll talk about each one.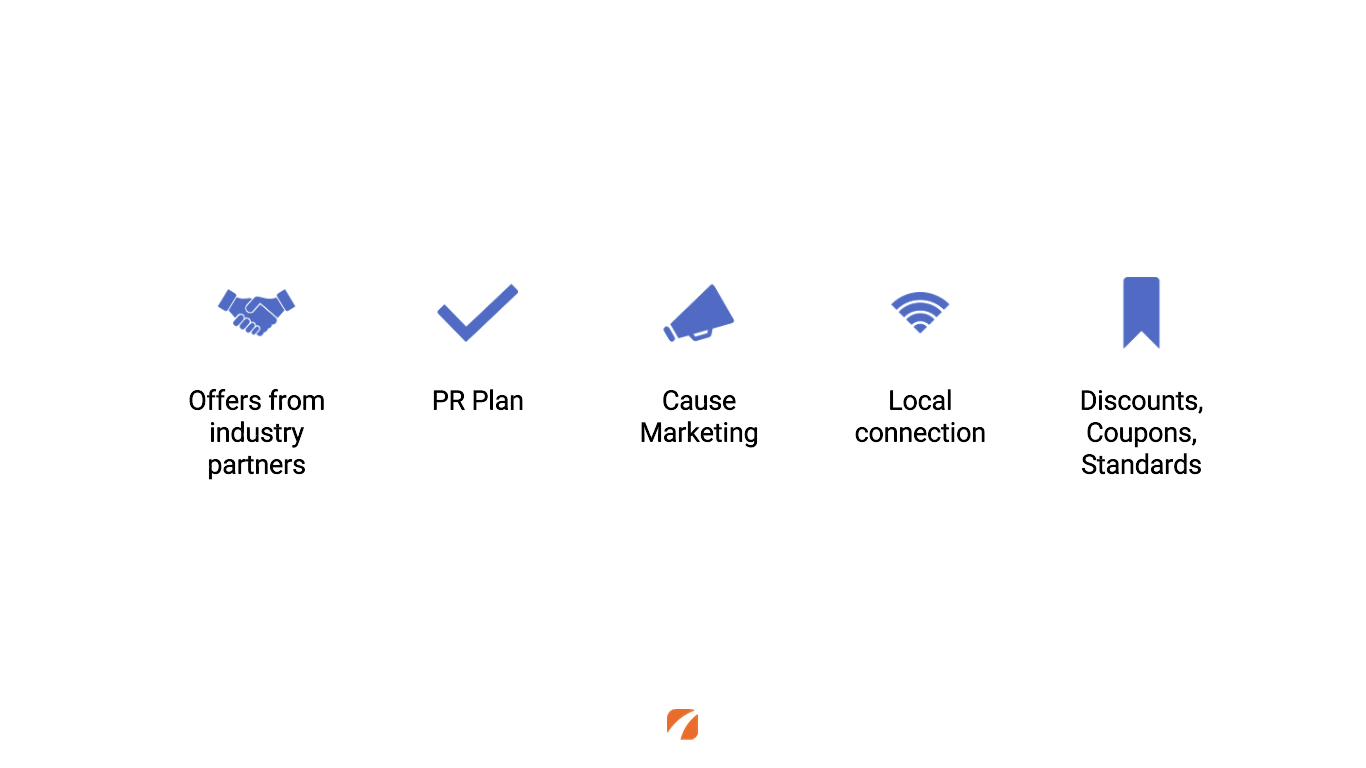 First, industry partners—check with them. Many device and pharma companies release new products and launch pass-through promotions timed with the end of the year. Inquire with your industry reps about expected offers to inform your planning. This is good for you and great moment to say 'help me help you.'
Next, cause marketing. Consider partnering with a charity that means something to your practice. Think locally if you can before going nationally or internationally. Reach out to that charity to determine how you can provide contributions to them like maybe a special day or days where a percentage of sales goes to that charity, a donation drop box, things like that. Make sure that you ask the charity to promote that partnership, don't be shy here.
Next, is your PR plan. Write and distribute a press release about that charity support that you just talked about, or maybe create a holiday party for local social media influencers with special hours, discounts, photo opportunities. Maybe you could reach out to a local reporter and invite them to discuss post-pandemic topics related to your medical specialty.
Holidays are often about traditions, your favorite meal, song, decoration, cookie, movie, what have you, and promotions are no different here. Use the following time-tested methods to motivate your consumers, let's take a look at these.
Discounts on pricing, specific days, bundle pricing, percentage discounted orders, the BOGO, free x with the purchase of y, all of these are great and your consumers will understand them. Now that we have some potential promotions for certain aspects of our products and services, we can think about when and where we should be marketing these promotions.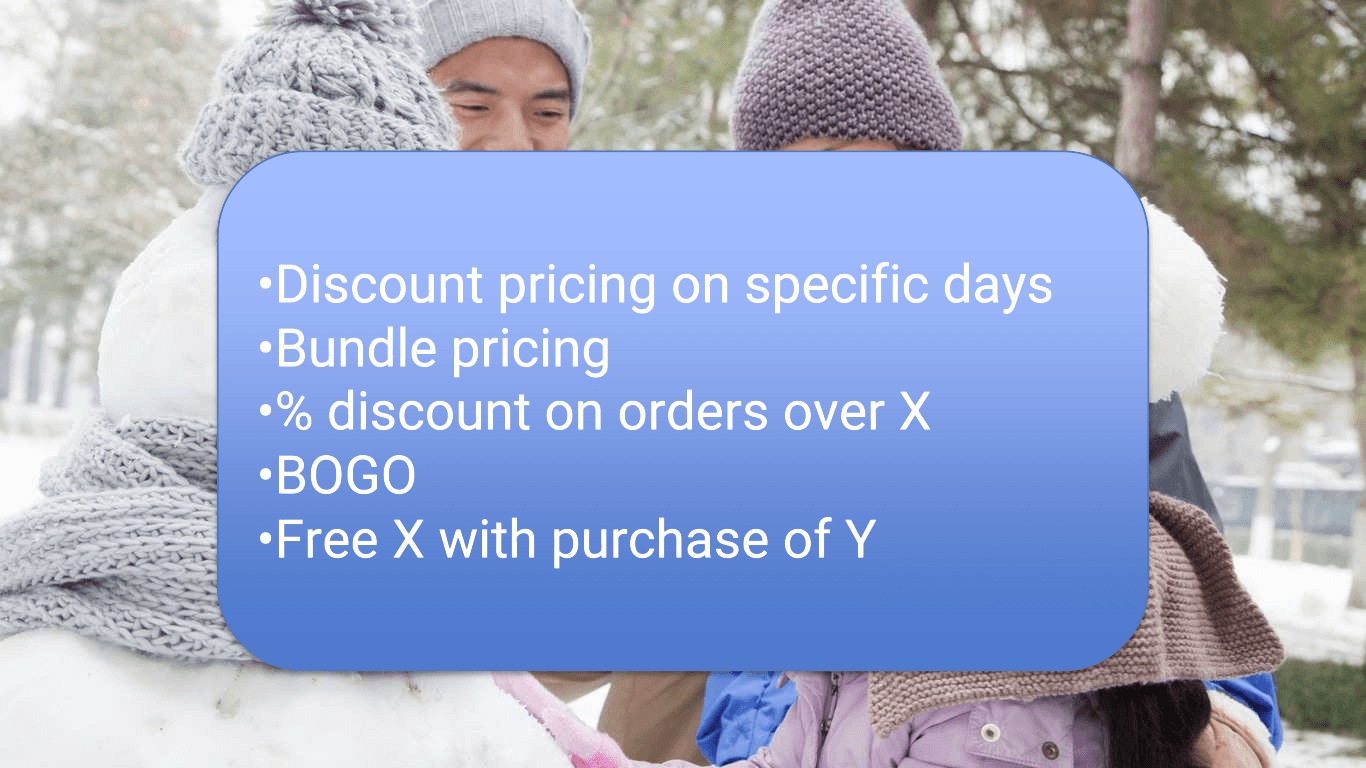 There are 7 key time frames that you have to think about when building a promotional calendar for the holiday period. Early season is generally anytime between Halloween and Thanksgiving. This is a great time to hold open houses or online gatherings where you can capture a broad audience and let them know that you're gearing up for the holiday season.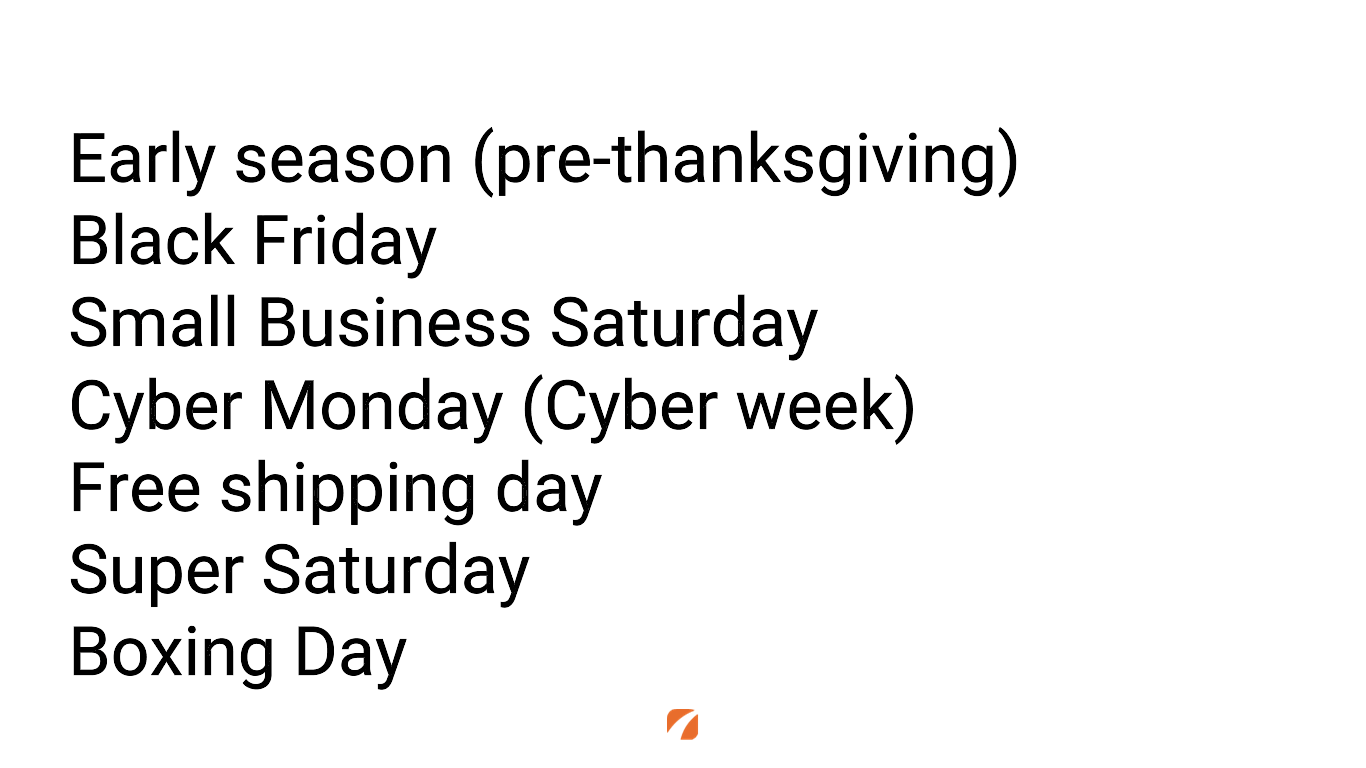 It's also a time to start filling your funnel with prospective buyers. Think back to those catalog days when you got the Toy-R-Us guide or the Hammacher Schlemmer catalog, that helped you think about the holidays. Each of the rest of these days in this list are fairly discreet when it comes to timing. You'll need to think about each in a promotional period, which service applies to which one, and which calendar event. If your promotion makes sense for a single-day focus like Black Friday, focus on the early season timeframes. If you have a longer-running promotion like cause marketing look at that over a period of time and maybe wait until later in the season. Some products or services lend themselves to better late-season offers like gift cards for last-minute purchases.
Now let's put it all together and plan. For each calendar event, you should think it through and document the following with high-level concepts. When? Black Friday. What product am I going to promote? What discount should apply or what's the offer to be made? Where should I promote this one, online, website, in-store? What kind of collateral do I need for this, store signage, scratch-off offers, social posting graphics? How many of these do I want to sell?
This planning example spreadsheet that I'm going to show you next helps to pull all of this information together. Connect these data with the promotion, the timeline, the goal, the channel, and the graphics to have it all in one place.
You can see here that I have three promotions noted. Two for Black Friday, and one for Boxing Day with the date, product, goal, promotion, channel, and graphics. This is what you need to base all of your success moving forward.
Combining all these options together are countless. You can combine these products and promotions and messaging in all kinds of channels but be distinct with each promotion and calendar date you choose. Try not to reuse your graphics for each date so your messaging pops out for consumers.
Graphics—images, and video really make a campaign pop. You'll want your office environment to match the mood as well. Think about where you might message your promotions inside your office; windows, pop-ups, ceiling hangers. Think about your graphics budget, and placement, and guidance, and ultimately the production schedule. Do not wait until the last minute. Etna can help you prepare these graphics and unify them with your online postings as well.
Ahhh, the holiday sounds of the season. Music drives in motion that you can help to drive consumer intent. Identify what music you will play in your office, how, and where you will play it. Make sure to add enough variety to your playlist so you don't drive your staff crazy.
Step three, let's take a breath, that was a lot. You have a lot of goals here, you have promotions and you've linked them together, everybody still with me? Alright, on to step three, operations and training, I love this part.
Step 3:
A well-trained staff is very important. It's been two years since you've had a great holiday period. Your team probably needs a refresher assuming they were even with you back then. Make sure your staff understands how to set patient expectations, and how their actions impact the practice. Focus on key things like greeting, proper selling, how to check someone out, minimizing waiting times, and keeping a tidy office.
There are five basic steps to selling that we could all use a reminder on. Start with greeting the customer, take the customer to what they were looking for, put it in their hands if you can, or help them visualize it. Suggest add-ons, 'you may also like', and offer suggested alternatives if you don't have what they want. Gift cards are a great offer here. Make sure to thank the customer as you can.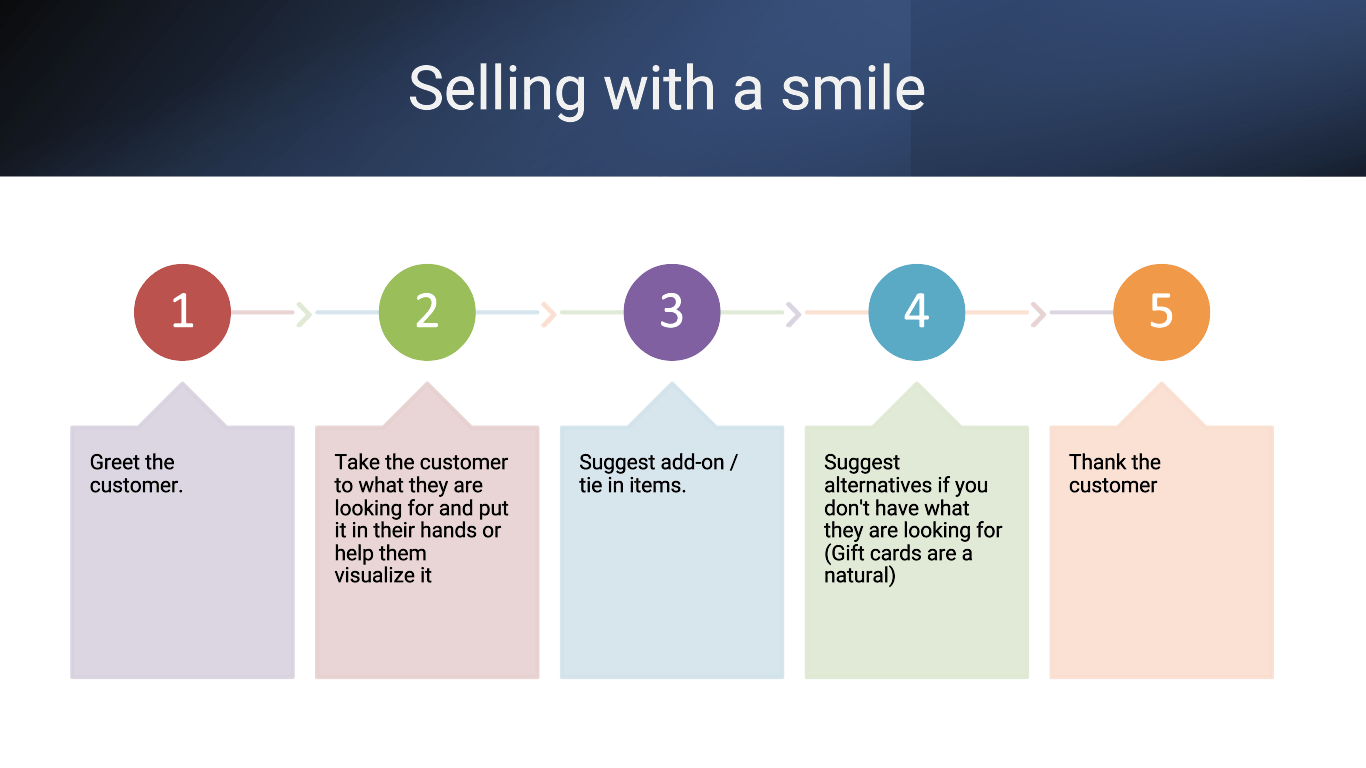 Sometimes a sale isn't possible, but you can still use this interaction to grow your CRM. Train your staff on how to best capture customer information, email address at a minimum, to grow your email base, or grow your entire CRM, for future marketing capabilities.
Let's face it, the holidays are a hard period for each of us, including your staff. Building an incentive plan to help your team stay informed and focus on the right goals is essential. Regardless of how large or small an incentive payout is, it's a great way to make your team aligned to your goals.
Focusing on key dates of deliverables like a Black Friday goal, for example, maybe if they hit the goal for Black Friday a pizza party happens. What happens if they beat it by 10%? Maybe gift cards. What if you had a whole sales plan for Thanksgiving through Christmas, maybe there is some kind of structured cash payout? There's lots of options, definitely try one.
The last key piece of training—contingency plans. We don't know exactly how this holiday season is going to play out. You should develop some contingency plans for the following items at minimum. What do you do if further healthcare restrictions pop up like masking or practice access? What do you do if your inventory for key items goes to zero? Don't forget about those promotions you have coming up. Weather restrictions or storm closures, what about your practice, can it still fulfill it's needs? Key staff loss. make sure you have proper documentation for key systems like point-of-sale, order tracking, and service scheduling. No one person should be a point of failure.
Step 4:
Lastly, part four, messaging. Let's start with your website. Based on promotional calendars, what messaging needs to go up on your website? Can all visitors find promotions, are there some promotions that need to be to a subset of visitors, or certain time-based promotions that need to go up or down from your website?
If it's not event or promotional messaging, maybe just seasonal messaging, graphics, words, that let your customers know that you know the holidays are here and helps them to clue into that. Think about things like updated hours, or again, links to promotions to help clue those consumers in.
Email messaging—one of the cheapest ways to get the word out about your promotions is email and it's essential to your marketing plan. Look back at your promotional plan to see which items you can be messaging about and when. Think about how often you will be messaging during this period. How will it intersect with any other messaging plan? Who should be getting this message? Make sure you've prepared your messages well ahead of peak season so you can easily send or stop any specific messages as the season unfolds.
Much like email, social messaging is a great channel to talk about seasonal sales and events. You should coordinate your promotional messaging between email and social channels. Think about offering promotions to new customers in your social channels by encouraging shares from your existing followers.
We got it – we got it all. I know it can be overwhelming, but you can do it. Focus on a few key products, find a compelling story or promotion, pick a few channels to tell that story, make sure your team knows the plan, and if you're an Etna client feel free to reach out to your AE as a sounding board. If you need any further help, please find us at etnainteractive.com.    
---
Related Posts