As a medical practice leader or marketing manager it could be easy to take something as mundane as email marketing for granted. Your clinic or spa's email marketing may be running smoothly, but how would you know? Read on, or watch the video, for some simple tests you can run to gauge how well your email marketing stacks up against industry benchmarks and best practices.
Learn more about what to do if your emails are underperforming, how you compare to industry standards, and elective medical email marketing tips.
Why Every Medical Practice Should Use Email Marketing
A successful email list growth strategy will attract both interested prospects and past patients. Both are familiar with your brand, both are interested in your services, and both are giving you permission to educate, entertain or marketing to them in the future. There are even more reasons you might want to get your email marketing right:
Email builds "salience" for you brand.
Emails keeps your brand in front of patients and prospects, creating awareness and building the memory structures that will help patients recall you when they need your services.
Email opens a dialogue with patients and prospects.
While your website waits for visitors, email pushes your information and special offers to subscribers. It keeps you in touch with the people who can keep you in business.
Email is interactive.
Not only can you open the conversation, you can keep the interaction going with links from your email to your site. You can also use email to promote immediate event registration, purchases, client surveys, and registration-required offers.
Email performance is easy to measure.
Tracking the response rate of recipients on your email subscriber list is easy with just a bit of planning beforehand. You can even use email to test which offers and information inspire robust responses and which are largely ignored.
Email is fast.
The most successful long-term campaigns are delivered on a regular schedule to build customer expectations. But when big news breaks we can help you conceive, design, and deliver email marketing from scratch in just hours.
Email is targeted.
By following best practices when you build your subscriber list, it will be stocked with names of past customers and prospects who have a serious interest in your business.
Email is easily shared.
Your subscribers are just a click away from forwarding your message to friends and colleagues who may be interested in the products and services you offer.
Email is affordable.
Etna Interactive offers affordable, customized email marketing packages. Unlike direct mail marketing that gets more expensive with every new distribution (and every increase in postage rates), email marketing becomes more cost effective as your subscriber base grows.
For all these reasons and more, you're likely already engaged in email, but is your clinic using it well?
For part 2 of our email marketing series, head over to our latest blog post for tips on how to grow your email subscriber list.
Email Marketing Self-Assessment for Medical Practices
There are six simple tests that you can run to determine whether your email marketing is on track or off the rails.
Subscriber growth online
Subscriber growth in-office
Brand alignment
Mobile responsiveness
Average open rate
Average click through rate
We've made it easy to run these six tests. Use the form below to download our email marketing self-assessment form.
---
Video Transcription:
Hi again and welcome back, it's Ryan Miller with Etna Interactive. We're going to talk today about email. Now I know we've talked about this in the past, but a lot has changed in the last year. If you were paying attention in 2021 you might have remembered that the iPhone and a number of other popular mobile devices increased privacy specifically in their email applications. Making it harder than ever for well for email marketers to track performance. So, we've got updated performance benchmarks whether you're a practice leader who's looking to have better oversight management for their email marketing or a marketer inside the practice or an independent agency marketer working in the email arena this is a great chance for you to brush up on how you can do email better.
Now let's take a moment to address the elephant in the room, which is you know, email, is it really as sexy as it used to be? And the answer is yes, it consistently outperforms, for most elective medical practices today, either social media direct posting, social media advertising, and even SMS advertising. So, it's an important thing for you to focus your time and energy on for your practice.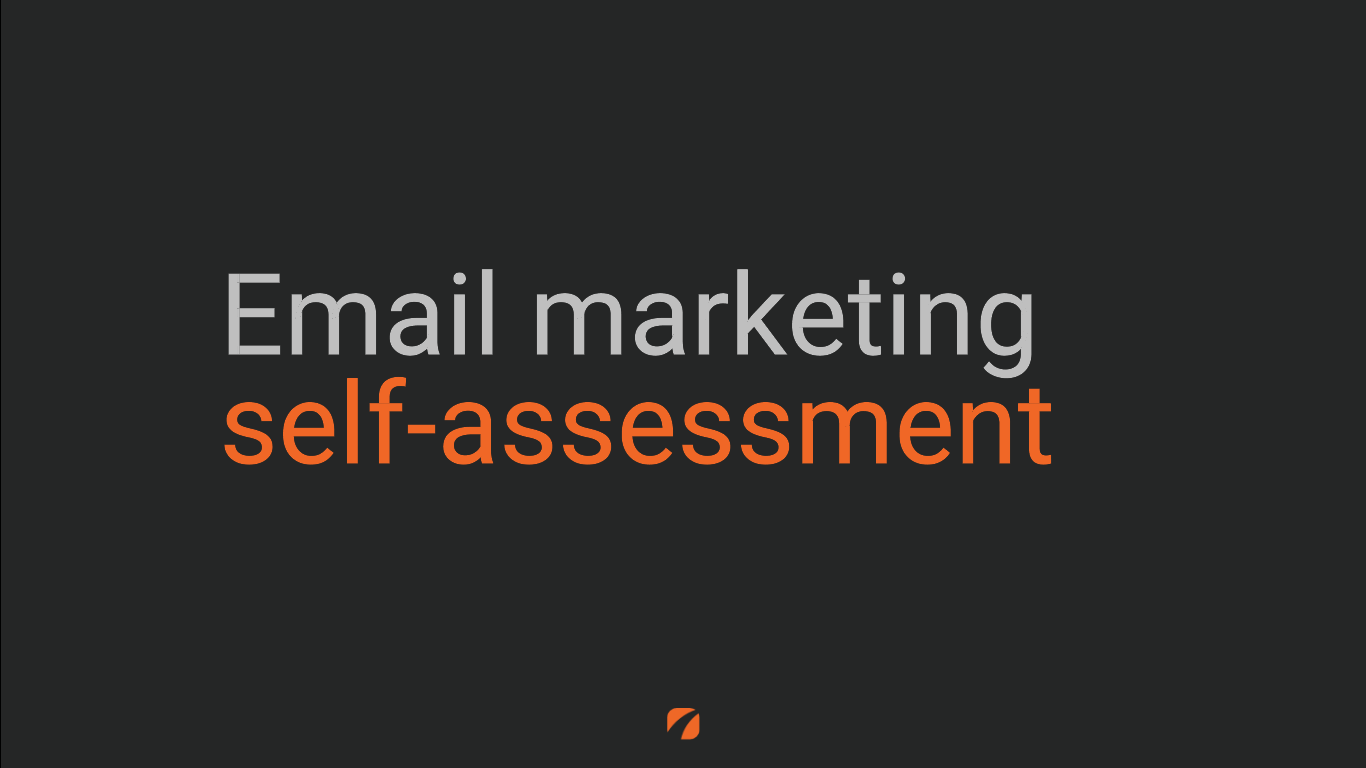 And really this question is: What can you do better? So, the way this particular video, we're going to be together for just about eight more minutes, the way that it's structured is we're going to hit some benchmarks, you can go and check yourself and then based on your findings if you're underperforming against the benchmarks, we're going to give you a checklist of things you can take a look at to improve your performance this year. So, let's talk first about how in the self-assessment we approach one of the most important ideas which is list growth.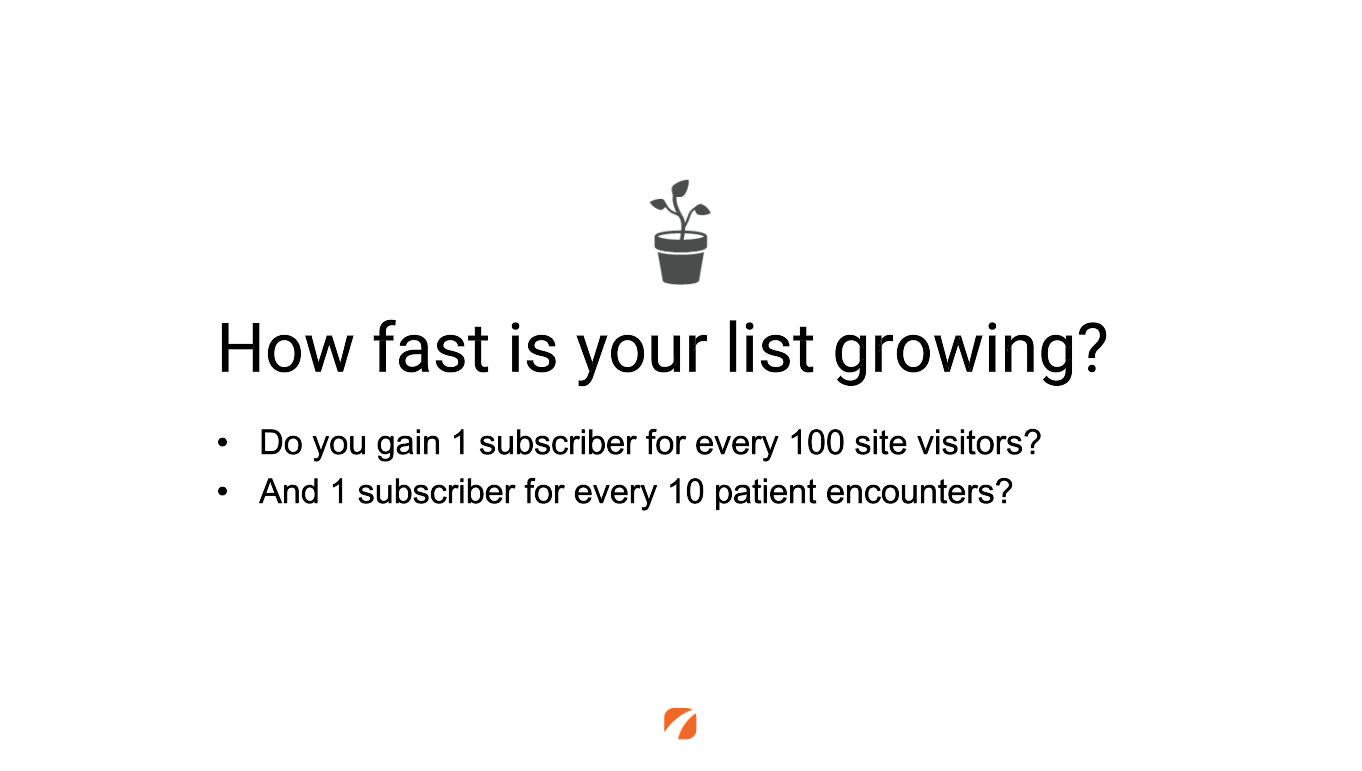 So, there are two important benchmarks here that we can look at in terms of measuring the rate at which you are adding new subscribers to your list. Generally speaking, what we want to see is that you're going to subscribe about one new subscriber for every 100 site visitors and in addition to that one new subscriber for every ten patient encounters.
Now does this mean that only one in ten patients is actually interested in being on the list. And the answer is no. Many of the people that you treat are past patients who are likely to already be on that list. Similarly, a lot of the people who are visiting your site are there for something like transactions like finding your address or phone number, likely to be on the list, and not likely to subscribe in that visit. So, you can take a look at the number of new subscribers that you've added over the last thirty days, look at your number of patient encounters, look at the number of site visits and know pretty quickly how you're doing against that metric. Now what if you're underperforming, what do you do?
Well, first thing you want to take a moment to look at is your online forms. Every one of your online forms should offer that checkbox allowing the individual to opt-in to subscribe to your list. It should be automatically linked directly to your email marketing software, whether that's practice management or customer relationship management software that you use or something like Constant contact or MailChimp. Those forms, in addition to directly alerting you to the patient inquiry should populate that subscribers opt-in onto your list. It's automatic growth.
In addition to that all of your in-office paperwork you need to get permission from patients in order to market to them. It's not a very good practice here in the United States, and it's actually against the law in Canada to directly take an email address that you collect during the course of patient care and use that email address to put that person onto an unsolicited marketing communication list. We don't want to do that we want patients to opt-in.
So, check your paperwork, make sure you've got the permission there from the patient. And then most importantly look at your office processes, are you taking the names that you collect in office and actually getting them onto your list. This is the number one thing that we see clinics overlook.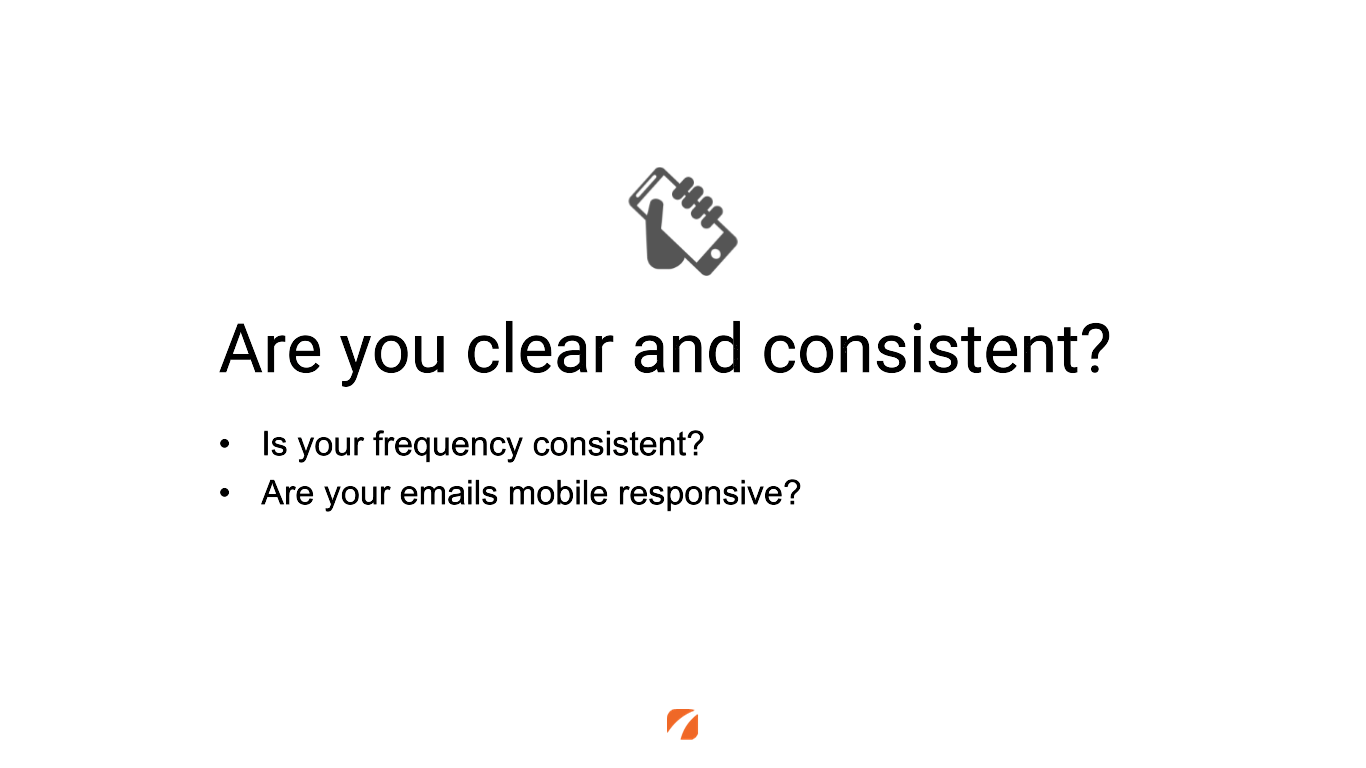 Now let's talk about clarity and consistency in your email marketing. So, the first thing you have to take a look at is frequency. What we find is, for a lot of clinics especially those that are doing their own email they do it only when they, well can find a pressing need to send out an email communication. The challenge with this particular choice is that when patients aren't expecting, when they're not trained to look for having your email in their inbox, it's easy for them to overlook your sporadic communications.
On the other side, if you're too consistent, if you're sending emails too frequently, you burn your list out, people opt out simply to get you to stop contacting them. So ideal frequencies here what we're looking for is consistency at the rate of about once per month at a minimum and not more than three times per month for most types of elective medical clinics and spas.
Now mobile responsiveness is probably the most important thing to know for you. What we find today is that for many clinics the rate at which people are looking at your emails on mobile devices is roughly equal to or greater than the number that are seeing your emails on desktop. But many clinics who are doing their own email marketing are only looking at their distributions on desktop and are often surprised to find how difficult it is to read or interpret their emails when they're viewed on the phone. So, be sure that you or the team that you supervise are checking each email on their mobile device before it gets sent to the full list.
So, what do we do really quickly? Well, we want to make sure that we've got visual consistencies in the logo presence, in the design, in each one of your emails. That's going to help me recognize it, right? We want to make sure that all of the content that we deliver is legible on a mobile device without having to pinch and pan, right? I should be able to read the words of your message the moment I open it up on my mobile phone.
In addition to that I want to check my distribution frequency and you can simply look at that by looking at your delivery reports. Look at the timing, right? Are you going out on roughly the same day of the week, same time of the month every month if you're on a monthly cadence? And check that out to make sure that you have the discipline to ensure maximum deliverability.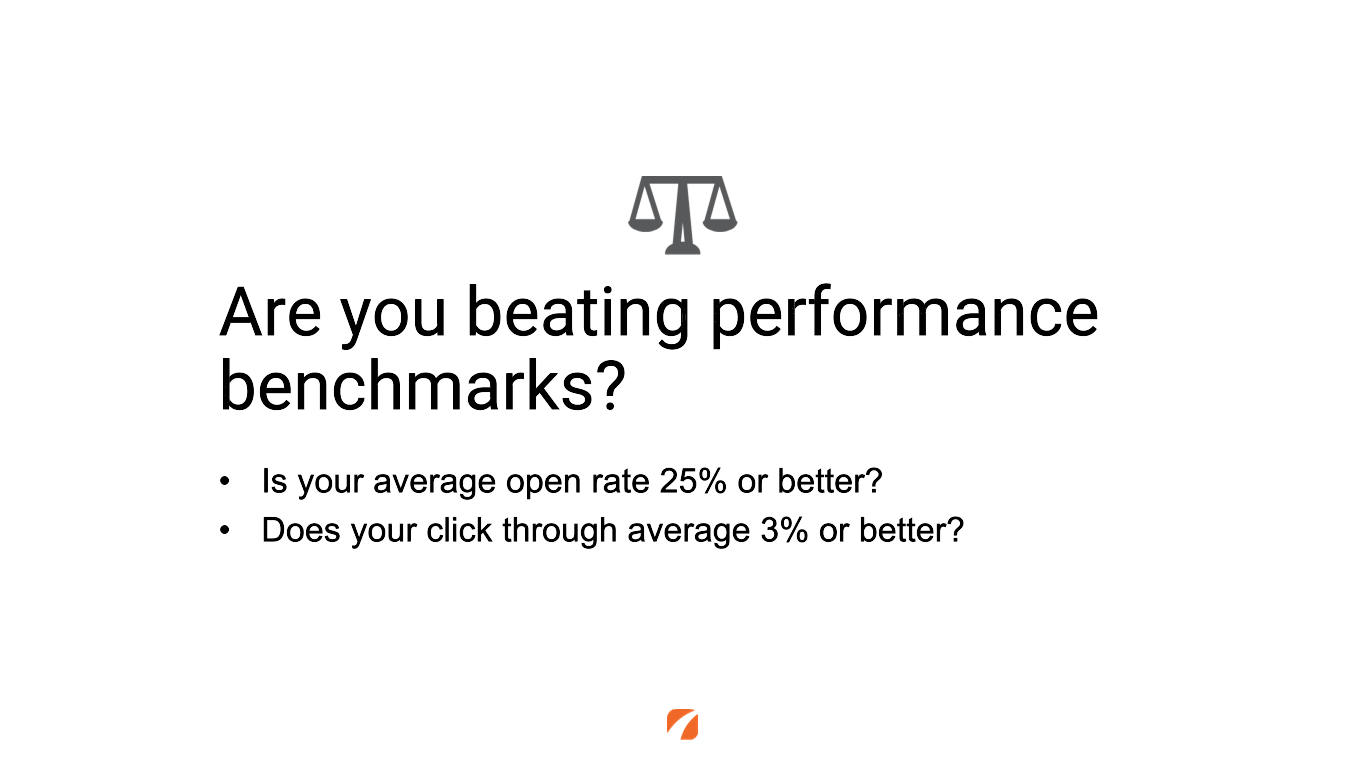 Now the third area where we want to benchmark ourselves is really just the overall email marketing performance. As I mentioned at the beginning, in 2021, it got a little harder for us because some of the data about things like open rate has been obscured for certain users who have enhanced privacy features on their mobile phones. So, what we're looking for in 2022 is that your open rates are exceeding 25%. We fairly routinely see open rates that are closer to 40%, but this is the industry average in the healthcare and beauty space.
In addition to that we want to look at click-through-rates a really good click-through-rate on average is about 3% of all of the people who were sent the distribution overall. So those metrics should be directly in front of you in whatever software that you're using. A very easy thing for you as a practice leader or a marketing manager to check in on to make sure you hit these benchmarks. But what if you're under performing?
Well, here are a couple of things that you can check. Number one, we already talked about the idea of frequency. If your frequency is inconsistent, you're going to tend to under perform on both open rate and click-through. Make sure that your brand is immediately recognizable. We talked about that under consistency. We want people to know that this message is your message, that they value your content and that relationship so that they're likely to open it and click when they receive it. Delivery time is also an important thing as well, it's something that varies from industry to industry and region to region, so you might need to do a little bit of testing here. What we generally find is that midweek we see great open and performance rates in that Tuesday through Thursday range and that kind of before and after the lunch hour, the middle of the day both tend to perform very well in our space. But there are certainly outlying examples.
So, take a look at your own data in terms of when your sends are driving the most opens and click-throughs and target your future distributions into that space. So subject lines we have to admit is probably one of the biggest things that influences your email open rate. Take a chance to go back and study some of your subject lines, look at which types of subject lines performed the best and allow that to influence your writing as you go into the future.
Now interestingly enough what we find for clinics who do their own email, this is the number one problem that we see in this particular area of benchmarking is that very often emails are constructed without any clear call to action or next link that would take the user deeper into their relationship with your clinic. So, if you're constructing an email the thing you have to stop and ask yourself is what do I want the user to do next? And which link on my site is most appropriate? And in some cases, maybe it's simply a link to your contact page or your request a consultation page. But very often if you're talking about a procedure the most obvious link to include is the link to that procedure's page on your website. It's going to allow that user to take their interest which you've hopefully piqued go deeper into that, spend more time with you and your brand and ideally convert to a patient.
So, think about how is email marketing performing for your clinic now and how are you going to make it better for 2022? Thanks for paying attention, if you have any questions at all hit us up on our website or post a comment on our blog!
---
Related Posts