Table of Contents:
In the competitive world of plastic surgery, reputation is crucial in attracting and retaining clients. Throughout this blog, we'll discuss how Etna's platform, Reputation Ally, can help you effectively manage your online reputation – taking some of the guesswork out of your review acquisition strategy.
Why Reputation Matters
In today's digital age, a strong reputation is essential for plastic surgeons and medical spa professionals. Here are three key reasons why reputation matters:
1. Google Reviews Help With Local Ranking Visibility:
Google has become the go-to platform for consumers searching for local businesses. Positive reviews on your Google Business Profile(s) increase your visibility in search results and contribute to your local rankings. Encouraging satisfied clients to leave reviews on Google can significantly boost your online presence.
2. Reviews Provide Social Proof and Build Trust
A positive and robust online reputation serves as social proof, influencing potential patients' decision-making processes. Positive reviews act as testimonials, demonstrating your expertise and fostering credibility. Users who see positive reviews and ratings are more likely to trust your brand, leading to increased inquiries and leads.
3. A Healthy Reputation Boosts Authoritativeness:
Having an excellent online reputation, supported by authentic reviews and testimonials, can enhance the visibility of your website. According to Google, the components of E-E-A-T (Experience, Expertise, Authoritativeness, Trustworthiness) are crucial aspects in the evaluation of content quality by Google's Raters, as outlined in Google's Quality Raters Guidelines.
Statistics on Reviews and Consumer Behavior
Recent statistics highlight the significance of online reputation management in driving consumer behavior within the plastic surgery industry. Consider the following:
Studies show that 84% of consumers trust online reviews as much as personal recommendations. Additionally, over 70% of potential patients read online reviews before deciding on a plastic surgeon. Positive reviews and a robust online reputation are crucial for attracting and converting prospective clients.
The Importance of Addressing Negative Reviews
Negative reviews are inevitable, but how you handle them can make a significant difference in your reputation management strategy. Here's why addressing negative reviews matters:
Responding Shows That You Care
Promptly responding to negative reviews shows your commitment to customer satisfaction and indicates that you value feedback. Addressing concerns publicly and offering resolutions can help mitigate the impact of negative feedback and present your practice in a positive light. US practices concerned about the potential for violating HIPAA when responding should read our blog post with guidance on responding to online reviews.
Being Transparent Builds Trust
When potential clients see that you actively address negative reviews and take steps to resolve issues, it builds trust in your brand. Transparency and accountability are vital in reputation management; they showcase your dedication to providing excellent patient experiences.
Be Sure You're Present on These Trusted Review Platforms
To effectively manage your reputation, it's crucial to be present on popular and trusted review platforms. Here are some platforms you should consider:
Google:
As previously mentioned, Google reviews are highly influential for local search visibility. Claim and optimize your Google Business profile to encourage clients to leave reviews and engage with your practice.
Facebook:
With billions of active users, Facebook is a valuable platform for engaging with your audience and receiving reviews. Create a business page and regularly monitor and respond to reviews and comments.
Health & Aesthetic-Specific Platforms
Industry-specific review platforms provide patients with a place to share their experiences. Having a presence on these sites allows potential clients to access unbiased feedback from others within the medical community. Some of the most important platforms include:
Vitals
Insider Pages
RealSelf
HealthGrades
RateMDS
How Etna's Reputation Platform Can Help
Etna understands the importance of comprehensive reputation management for plastic surgeons and medical spa professionals. With our Reputation Ally, a suite of reputation management tools, Etna provides reputation-conscious clients with the resources they need to have complete control over their online reputation. Here are some ways Reputation Ally can help you earn more reviews, enhance your online reputation, and build greater patient trust:
Easily Solicit First and Third-Party Reviews
Etna's Reputation Ally allows you to actively solicit both first-party and third-party reviews. First-party reviews are collected directly from your patients, providing valuable feedback and insights into their experiences. Third-party reviews are obtained from popular review platforms, expanding your online presence and credibility. By soliciting reviews from multiple sources, you can gather a diverse range of patient feedback and testimonials.
Assess Your Reputation Health at a Glance
Reputation Ally offers a comprehensive reputation score that helps you visually assess your online reputation health. This score considers factors such as the quantity, quality, and sentiment of your reviews, as well as your average ratings. With a clear understanding of your reputation score, you can gauge your performance and identify areas for improvement.
Segment Reviews for Clearer Insights
For a more targeted approach to reputation management, Etna's Reputation Ally Premium allows you to segment reviews by provider, location, and procedure. This feature provides valuable insights into the specific aspects of your practice that are performing well or need attention. By analyzing reviews at a granular level, you can tailor your strategies to address specific areas of concern and highlight your strengths.
Signal Google With Integrated Structured Review Data
Etna's reputation platform offers structured review data integration, helping Google understand your online reputation by providing this information in a language that Google understands.
Keep Your Website Fresh With Dynamic User-Generated Content
Etna has created a website review widget, allowing you to showcase reviews directly on your website. By displaying authentic and verified reviews on your site, you can enhance your credibility and influence potential clients. This integration also provides convenient access to reviews for visitors, saving them time and effort in their decision-making process.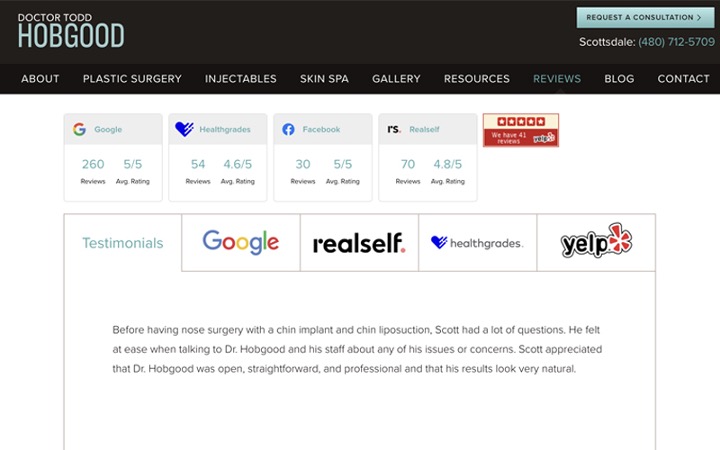 Make Your Reputation Your Best Marketing Tool
Managing your reputation is paramount to success in the competitive landscape of plastic surgery practices. While a good reputation has always been important, in the digital age, it is essential. When you embrace automation with a good reputation management platform like Reputation Ally, your reputation will thrive, and so will your business. You'll understand what we mean when we say your reputation can be your most valuable marketing tool.
As always, if you have any questions, you can contact us anytime, and our team will promptly reply.
---
Related Posts