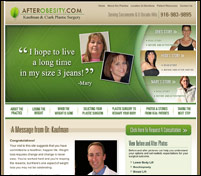 To strengthen his leadership in post-weight loss plastic surgery, Sacramento's Dr. David Kaufman is active in this highly-connected community. He develops relationships with bariatric surgeons, speaks to support groups and maintains a dedicated site: www.afterobesity.com.
"Since we invested in community outreach, our relationships with post-weight loss patients have grown dramatically in both quantity and quality."
– Dr. David Kaufman
Create your own outreach program:
Target a community; seek referral sources
Get qualified patients through others they trust
Create a special website section or mini-site
Bring patients to you with targeted content and more search engine hits
Develop creative co-marketing ideas
Increase preference for your services by offering education, support, discounts
Help patients connect on-line
Let them hear about you before surgery and sing your praises to prospective patients afterward
If you are hoping to connect with a specific patient niche, Etna Interactive clients should share this desire with their Account Executive.
---
Related Posts