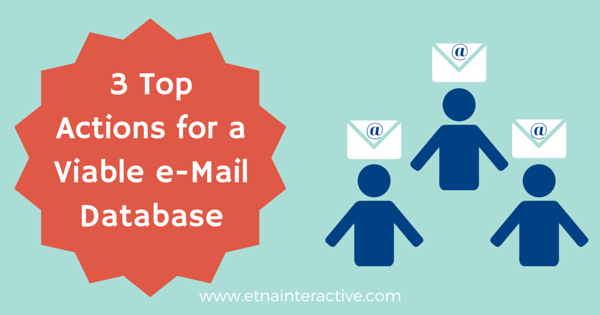 Your list of patient email addresses is already outdated. Half of Americans switch email service providers every year, making e-marketing lists depreciating assets.
How can you protect your hard-won, permission-based database? How can you make sure it doesn't shrink into uselessness? By performing these 3 maintenance tasks. They should be standard procedure in any practice that relies on customer loyalty and repeat business to thrive.
1. Ask every patient who walks in the door whether the email address you have on file is correct. If it's not, add the correct address to your in-office and bulk email databases.
This is by far the easiest way to refresh your list and keep it current. If it seems like an irksome detail, turn it into a benefit by developing a few questions your staff can ask patients while jotting down their email addresses, regarding what they like about your newsletter, which parts they find most valuable, what's not so useful, etc. The comments can improve your newsletter content.
2. At community and patient loyalty events, place a "Guest Log" at the door. Include two sign-in columns – name and email address.
Again, it may take a little persuasion to get people to stop and write down this information, but it's worth the trouble. People who show up at your events are your most loyal fans, or have the potential to be such. They're the ones likeliest to share your newsletters when they get them, so make the effort to keep them close.
3."Scrub" your email list after every send, and try to re-claim addresses that have changed.
Bulk email companies report which addresses "bounce" when you distribute your newsletters. You can use these lists to locate bad addresses and replace them with good addresses.
Bounces fall into a few categories, some of which indicate temporary problems (mailbox full, for example). But the bounces labeled "Undeliverable" are permanently flawed and should be removed from your database after each send.
Before removing them, export them to your office computer and have someone on staff phone the patients whose addresses have been flagged "Undeliverable." Ask for a viable new address. If your patients' names and phone numbers aren't in your email database, find the owners of the bad email addresses in your master list. (Someone trained in Excel can do this easily.)
You work hard to find and publish great content. Don't squander your efforts on an email list that doesn't deliver.
Joyce Sunila is the President of Practice Helpers, providing e-newsletters to the aesthetic medicine industry. She can be reached at [email protected], 866-278-3019, or visit the Practice Helpers website, www.practicehelpers.com.
---
Related Posts